Power-T™
Manufactured by Clean Rooms West, the Power-T™ Ceiling Grid is the strongest ceiling grid approved for ISO Class 3 to ISO Class 8 cleanroom construction.
Power-T™ Features
Pre-cut grid members minimize field modifications
Typical 28′ mains
Grid suspension: 4′ x 8′ or 8′ x 8′
Extruded aluminum grid: 4″ x 3″
Baked enamel white finish
Standard PVC gasketing
Optional non-outgassing Poron
4″ height allows for better structural support of HEPAs and lights
Supports 100% coverage in fan filter units
Highly corrosion resistant
Larger mains allow for fast installation
Wider grid suspension provides room for duct work in the interstitial space above the cleanroom
Walk -On
Precision-T™
Manufactured by Clean Rooms West, this Heavy duty 3/8″ rod-suspension clean room ceiling grid system is utilized in semiconductor, pharmaceutical, medical device, biotechnology, laboratory & MEMS applications.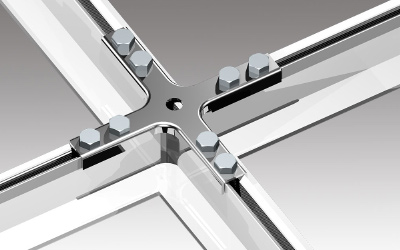 Precision-T™ Features:
Extruded Aluminum
Heavy Duty
3/8″ Rod-Suspended
Gasket Lined
Integrated Flexible Sprinklers
Continuous Thread for Easy Installation
Can be Relocated/Reconfigured/Expanded
Supports Fan/Filter HEPA Units
Clear Anodized or Powder Coat Finish
Available in Aluminum Ceiling Tiles
Standard-T™
PRELUDE XL 15/16″ Exposed Tee System is durable, provides system stability and easy installation.
Material: Hot dipped galvanized steel
Surface: Baked polyester paint or anodized
15/16″ Exposed Tee
Intermediate of Heavy Duty
Double hem for improved lateral strength
Rotary-stitched for additional torsional strength and stability
XL staked-on stab end detail provides tight, secure locked connection
Easy removal for reuse and relocation
Walkable Ceilings
A cleanroom ceiling must be able to hold a variety of systems including lighting and filtration. All these systems require ongoing inspection and maintenance. Walkable ceilings provide an efficient solution for easy access to the various cleanroom systems.
Minimize ceiling hazards
Safe walkable surface for maintenance staff
Easy maintenance access
Ceilings Can Be Easily Expanded as Needed
Strong and Easy to Install
Made of Various Materials to Meet Specific Requirements